Employment Wrongful Dismissal Damages
Four Ways Courts Will Measure Financial Damages In Wrongful Termination Cases
When a person is wrongly fired from their job, they have just two options at their disposal:

1 – Accept the termination and move on.
2 – Bring a wrongful dismissal suit and claim damages against the employer.

It's rare that a court will grant the petitioner an injunction in these kinds of cases.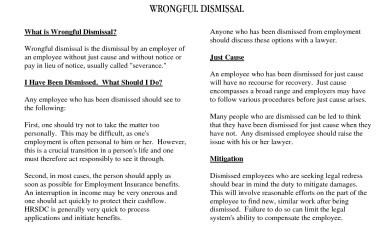 Four Ways Wrongful Dismissal Damages Are Measured In A Court Of Law

Wrongful dismissal damages are basically damages that occur when there has been a breach of an work contract. The damages must have occurred naturally or be the consequence of the breach. The damages are measured by the sum necessary to place the plaintiff in the same situation as if the agreement had been carried out in terms of money, not situation. Damages are typically considered in the following ways:

1 – Net Wages Loss

This is the beginning point where calculating compensations in cases of a contract with no defined term is the wages or salary the worker would have made if given proper notice. In cases of fixed term contracts, this would be the income for the rest of that fixed term.

2 – Accumulated Holiday Pay

According to Regulation 14 under the Working Time Regulations of 1998, a worker can receive payment to compensate for holidays he/she were authorized for but did not yet take. In the Leisure Leagues UK Ltd v. Maconnachie case, the court stated that the right calculating method for holiday pay was to divide yearly income of the employee by the quantity of days worked for the year and then to multiply it by the amount of days the employee had left.

3 – Added Loss

An employee can assert compensations for the loss of any other benefits besides lost wages for which they were permitted to according to the contract such as:

- Loss of fringe benefits (pension rights and company car)
- Loss of commission

Now, an employee can suffer from two types of pension loss:

- Loss of pension grossed up to the termination date
- Loss of any future pension prospect

4 – Financial Loss

Damages can typically be claimed when there is financial loss, which does not mean hurt feelings or loss of future job prospects. For example: in the Bank of Credit and Commerce International SA v. Ali and Others (2002) case, it's fairly difficult to prove that having no job prospects is due to the breach without powerful evidence; evidence that comes from prospective employees mainly.

When damages are assessed, both national insurance and income tax contributions are deducted. However, the employee must take reasonable steps to ensure that they find a suitable employment alternative once the job contract is terminated. Any refusal of realistic offer of employment can be considered a breach of this duty.
For more employment related legal information, go to Free Legal Forms and you should be able to find many general legal resources and related documents such as employment forms, employment evaluation forms for employer, contract forms and others for free of charge.